Sensory Needs and ASD: What EVERY SLP Should Know!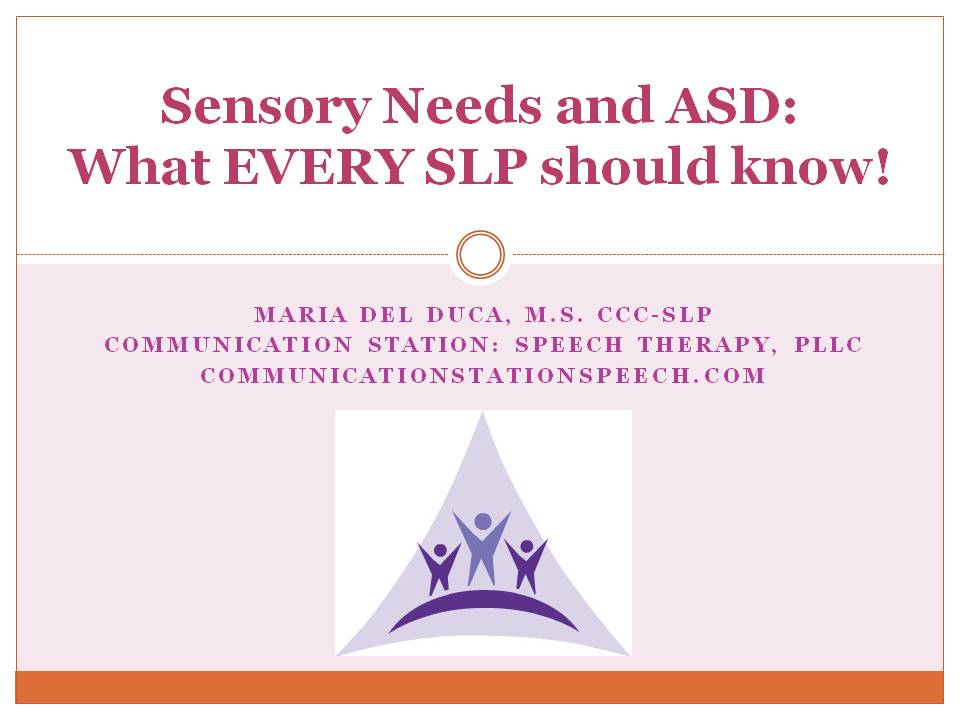 This product is a MUST HAVE for any speech-language pathologist, experienced or new to autism spectrum disorders, graduate students or even educators who have, are, and will work with children with ASD.  Before any child can learn, he/she must be in a state of alertness otherwise known as self-regulation.  For our students with ASD and those with sensory needs, self-regulation cannot be achieved independently.  Therefore, service providers MUST understand each child's individual sensory needs and the way to respond to them appropriately in order to achieve self-regulation so a child can learn.  This product can provide the basis for understanding these concepts.
This 24 page PDF file is a basic view of sensory processing needs of children with ASD and what speech-language pathologists must understand so as to meet the sensory needs of their students in order for learning to occur.  This file addresses incidence of sensory processing issues in children with ASD, the implications for speech therapy, definitions of sensory processing and sensory processing disorder, filtering issues and the effects on self-regulation, self-regulation and learning, hyper- and hyposensitivity related to sensory needs, how to work with students with sensory needs, available sensory processing checklists to evaluate sensory needs, and examples of classroom accommodations for children with sensory needs.
This product is on sale for a limited time only!
Here is a break-down of this product page by page:
Page 1-Title
Page 2-Learning Objectives
Page 3-Sensory Needs and ASD
Page 4-Implications for Speech Therapy
Page 5-What is Sensory Processing?
Page 6-What is Sensory Processing Disorder?
Page 7-Filtering Sensory Information and SPD
Page 8-Mixed Filtering Issues
Page 9-Filtering Issues affecting Self-Regulation
Page 10-Sensitivity and Self-Regulation Continuum
Page 11-Behaviors Associated with Filtering Issues
Page 12-Examples of Hyposensitivity
Page 13-Examples of Hypersensitivity
Page 14-How to Work with Students with Sensory Needs
Page 15-Observe/Evaluate
Page 16-Areas of Sensory Needs that Should be Addressed
Page 17-SPD Checklists
Page 18-How to determine Sensory Needs
Page 19-Simple Formula When Working with Sensory Needs
Page 20-Strategies/Activities to Meet Sensory Needs
Page 21-Classroom Accommodations (examples)
Page 22-Other SPD Resources
Page 23-Other Materials You May Find Helpful
Page 24-Resources