Guest Post by Scanlon Speech Therapy: Parts!
Today I have a wonderful guest post from Kim Scanlon over at Scanlon Speech Therapy.  If you have yet to check out her website (link above) and her blog, My Toddler Talks, I highly recommend you take a look. She has some wonderful ideas for parents and toddlers!
Let's Have Some Fun in Speech Therapy: Parts by Tedd Arnold
Thank you Maria for inviting me to guest post.  I hope you're enjoying this time with your precious little one. It goes by too quickly.
"The days are long but the years are short."
I'm excited to share how I use the hilarious book, Parts by Tedd Arnold during my speech therapy sessions with children from preschool to 2nd grade.  I've included a pretty broad age group because this book is appealing on many different levels. Although I must reveal, age and grade don't much matter to me; I select materials and activities based on a child's interest and abilities.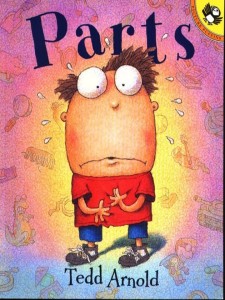 Why am I such a fan of Parts?
It makes me laugh as well as my clients.
Parts is about an imaginative little boy who thinks he's falling apart. Tedd Arnold uses a catchy rhyming text that makes for a highly engaging read aloud. The boys facial expressions, as well as those of his two favorite companions, dinosaur and superhero, crack me up too.
For those who want to know a bit more of the premise to Parts, here the publisher's description from Amazon:
"First, his hair started falling out. Then skin started peeling from his toes. Some stuffing came out of his belly button, and a piece of something gray and wet-his brain?-fell out of his nose. Is this normal? Or is this boy coming unglued? With a perfect combination of humor and grossness, this look at one boy's farfetched fears will have readers laughing their heads off!"
How Do I Use it?
There are so many great ways to use Parts in speech therapy and or in the classroom.
Here are just SOME areas to target:
Body parts

Can range from basic body parts (e.g. hair, nose, teeth) to the more advanced muscular and skeletal systems. Honestly though, since I'm a speech language pathologist and not a science or health teacher, I don't formally target the muscular skeletal systems. But, if one of my clients says something like, "That's just silly. Your arm won't fall off when you throw a ball. Muscles connect your arms to your bones," then we discuss the point. Such wise statements usually come from my clients whose parents are doctors. When this is the case we have a thoughtful discussion about the muscular skeletal system while focusing on accurate production of his or her target sound.

Sequencing

There are two different ways I target sequencing – broadly and narrowly.
By broadly, I means I'm using the terms – "In the beginning", "in the middle" and "at the end".
By narrowly, my target is more specific and hence I use terms like, First, Second, or Next, Then, and Finally. I use these linking words to describe the sequence in which the boy loses his body parts. After reading the book the first time, I'll have the client sequence the events in the story using picture cards. Then, I'll encourage him or her to use the broad or narrow linking words to verbally tell me what happened in the story. Sequencing the picture cards first is usually a big help.

Real vs Imagination

The little boy in this story has a very active imagination. Often times he witnesses something happening to his body and then imagines what it may mean. Some of my clients get a little confused because they have difficulty discriminating between what's really happening (e.g. lost a piece of hair) versus what he's imagining (e.g. going bald). Therefore, Parts is a good springboard to discuss the difference. Imagination is VERY important in a child's overall cognitive development. Having a good imagination allows children to think about future events as well as other people's feelings and perspectives.

Articulation

I LOVE reading stories as a way to carryover articulation practice. Fellow speech language pathologist and author, Pam Marshalla states that reading aloud is, "a step between word productions and conversational speech." For more carryover techniques from Pam, click here.

Phonological Awareness

Parts is a fabulous rhyming book that begs to be read aloud. Rhyming helps to develop the early stages of phonological awareness. Rhyming is a step towards achieving literacy –not because it helps with decoding – but because rhyming helps children realize that words are made up of distinct sounds. (I've written about the connection between phonological awareness and early literacy skills in my upcoming rhyming picture book, Learning to Read is a Ball, due out in early 2015).

Vocabulary

In addition to its strong rhyme and meter, Parts uses nice, descriptive vocabulary. As I've learned from experience, even children with advanced language skills, acquire new words like "appalled" and "bald" when reading and talking about this book. Vocabulary and oral language skills are extremely important in a child's reading and academic success. To read 10 Research-Tested Way to Build Children's Vocabulary (ALSO A FANTASTIC RESOURCE TO SHARE WITH PARENTS), click here. Click here.
Do you use Parts during your speech therapy sessions? If so, can you think of any other ways to incorporate it into your sessions?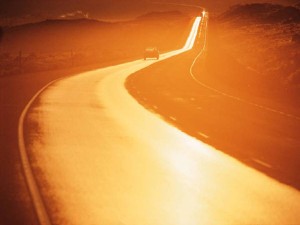 What's to Come?
This Friday I'm sharing some FREE worksheets to use exclusively with Parts.
Kimberly Scanlon, M.A., CCC-SLP author of My Toddler Talks: Strategies and Activities to Promote Your Child's Language, has written an illustrated an innovative picture book by applying her years of practice as a certified and licensed speech language pathologist with the latest research on emergent literacy. Her latest book, Learning to Read is a Ball provides parents, early-educations, and speech language pathologists with an accessible and effective guide to prepare children for formal reading instruction. For more information about Kimberly and Learning to Read is a Ball, please visit www.scanlonspeech.com.