FREEBIE Friday: Little Old Lady Who is Not Afraid of Anything-Sequencing Activity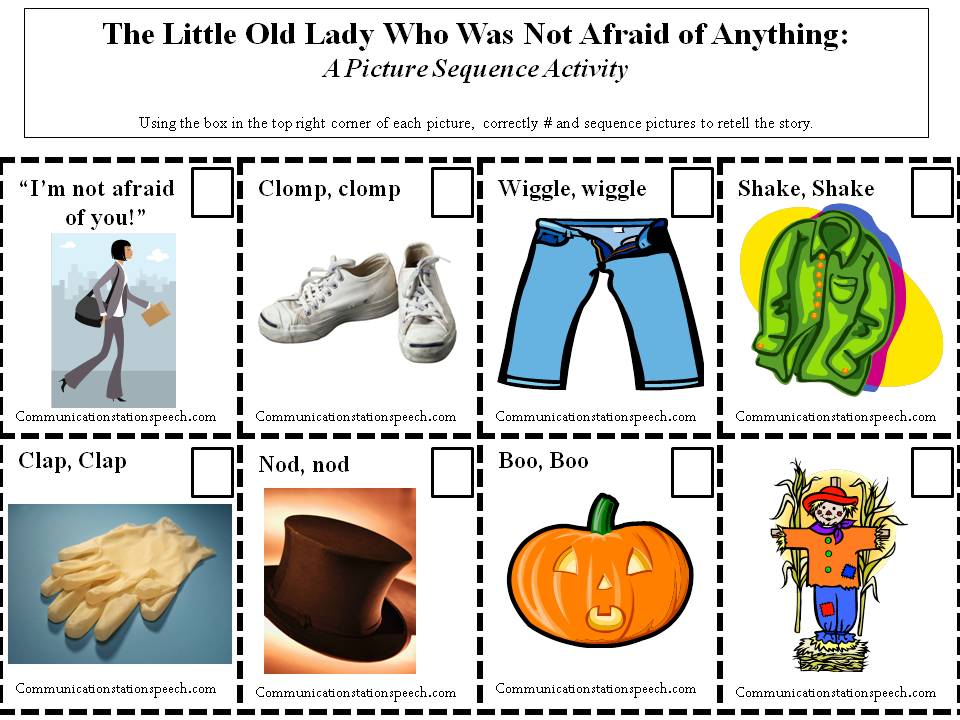 My son really enjoys the book, The Little Old Lady Who Was Not Afraid of Anything, and we have read it many, many times this fall.  There are so many things I love about this book:  the personification of the clothing, the gross body movements we have fun making while reading, sequencing parts of the story, and finally all the fun scarecrow extension ideas that can be done with this book opening up a world of language activities.
I made the above activity for a visual sequencing activity for my son.  We talked about what happened "first, second, third fourth, fifth, sixth, next, last", and I added the number of each step as we discussed the book (a simple way to add number recognition to this activity).  Once the sequencing was complete, we went back through the book, and using these pictures, I asked my son to retell the story.  It was so much fun and I realized what a perfect language development activity this was.  So, I share it with you today!
Disclaimer:  I do not represent the author or publisher of this book.  Nor do I receive any financial or non-financial benefits from mentioning this book.  You must have access to this book to us this activity.  This activity is not affiliated with the author or publisher in any way.
Want to know some of the fun scarecrow extension activities I thought could be great for speech therapy?  Check them out below!
We made these cupcakes at a play date with friends last fall after reading this book!  What a fun receptive language activity to target following directions! (click on picture to go to link for this activity)
Here are some cute scarecrow crafts I found on Pinterest!  (click on picture to go to link for this activity)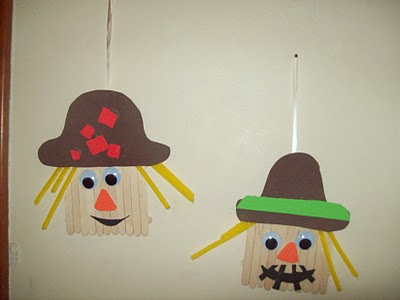 My son made something like this at his preschool this year.  They are so cute!!! I love this activity! (click on the picture to link to a blog re: this activity)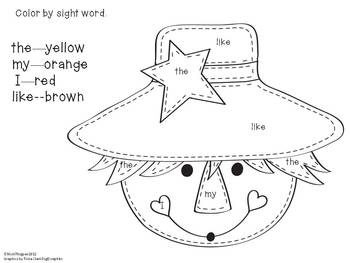 This is a super cute TpT FREEBIE activity that I found and it's so cute!  Great for working on color identification, following directions, sight words, etc.  (click on picture to link to freebie!)
I found this cute scarecrow paper holder activity for writing prompts!  Perfect for our students working on written language! (click the picture to link to the blog with this freebie!)
Look at all the scarecrow fun we can have in the fall!!!!  Thank goodness for creative people who are willing to share their great ideas on their blogs and Pinterest so we can take advantage of them!!!  I hope you enjoy these ideas too.
Happy talking!