2nd Bloggy Bday Giveaway #3: Itty-Bitty Books for Articulation Practice-complete bundle!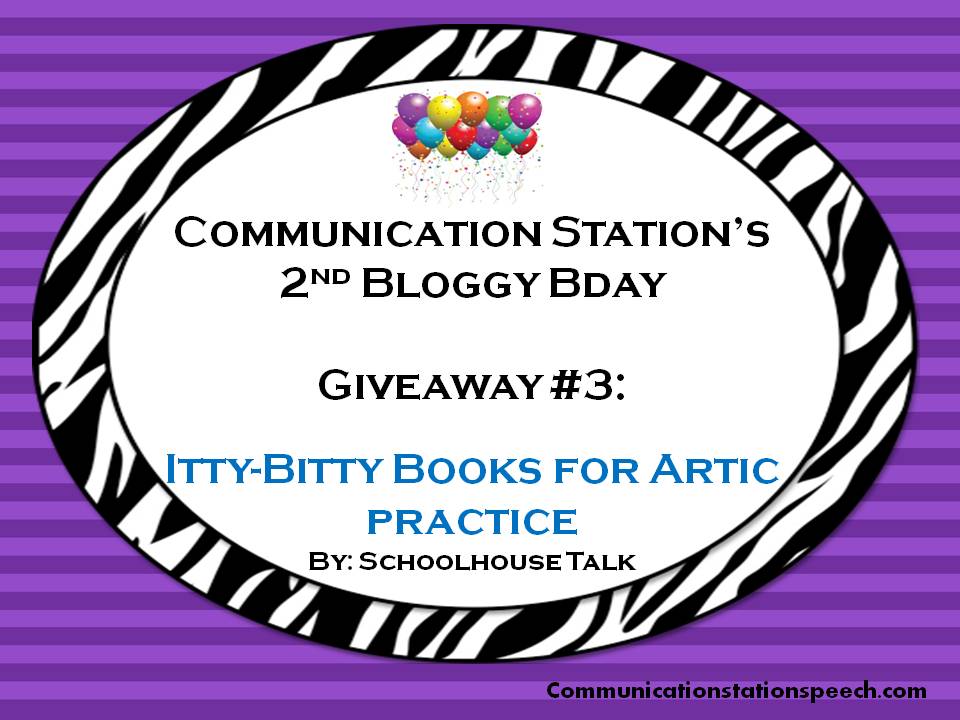 My 3rd bloggy bday post comes from the lovely Abby author of Schoolhouse Talk blog and creator of some wonderful TpT products!  Find more about her here: Blog: slp123.blogspot.com/ , Shop: teacherspayteachers.com/Store/Schoolhouse-Talk , Facebook: facebook.com/SchoolhouseTalk, Instagram: @schoolhousetalk and Twitter: @SchoolhouseBlog.
Hello! I'm so excited to be a part of Communication Station's 2nd blogiversary!! Maria writes such an excellent blog, creates very informative posts, and is extremely generous with her freebies! She is a great inspiration to me as a fellow blogger. Hats off to you Maria! Keep up the excellent work, and best wishes to you in your 3rd year of blogging 🙂
To help celebrate, I'm donating my Itty-Bitty Books for Articulation Bundle for a giveaway! These Itty-Bitty books provide a fun way for your students to practice their target sounds by creating their own mini books to color and take home! Each booklet includes folding instructions and simple pictures for students to color and practice their target sounds.
On each page you'll also find a practice schedule as well as space for students to draw their own picture. These are great practice for any student Pre-K through Elementary age.
But wait! There's more! Recently, additional pages targeting phonemes in the final position of words have been added to the books, including vocalic R and /ng/.
If you don't win, don't worry b/c we have an AMAZING discount for you!!!
The Itty-Bitty Books for Articulation Bundle is currently on sale for $11.75 – that's 40% off the price if you were to buy each book separately. After July 31st, the price of this bundle will go up to $16.50, so act fast!
Enter to win! Invalid entries will be eliminated so please follow directions below!
Thank you for letting me be a part of your celebration Maria! Digital *hugs* to you!
=====================================
Abby is the author of Schoolhouse Talk – a blog focusing on school-based speech language pathology. She currently lives and works in Iowa providing speech therapy services to children in the best age group ever: ages birth – 5. When not working or blogging, Abby enjoys reading, watching movies, canning jam and salsa, and reading other blogs. Be sure to stay in the know with Schoolhouse Talk: