Tip Tuesday: The Greedy Python Puppet Theater!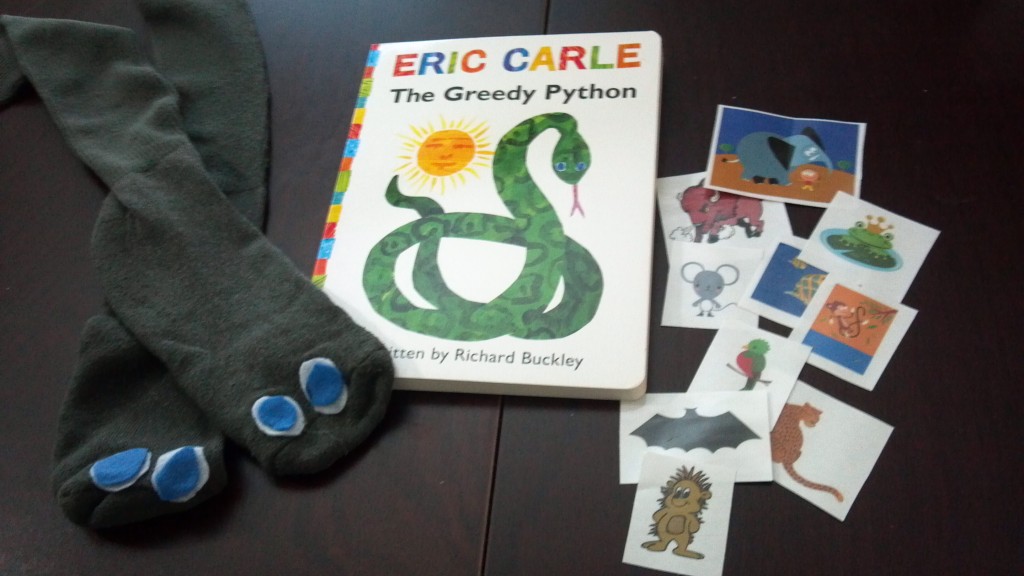 I think we can all agree we enjoy our Eric Carle books! One of my personal favorites for targeting animal vocabulary, sequencing events and simple rhyming words is "The Greedy Python"!  This summer, I was working with a 3 year old who was quite resistant to voluntarily speaking or imitating after myself or his parent when I was present in the room.  So, I tried to take the pressure off to "perform" and created a performance of my own!
Initial Reading:
First, I simply read the book to my client, giving him time to familiarize himself with the story while I spent time labeling the animals in the book.
Re-enactment on Repeated Reading:
Then I used a repeated reading (who doesn't love those?!) to visually act out this book with my trusty python sock puppet!  With a pair of old green army socks, a few bits of felt and a hot glue gun my python(s) took less than 5 mins. to make!  During this repeated reading, I placed laminated pictures of animals on the floor in front of my client. I simply made these pics using clip art from microsoft ppt (come back this Friday and grab these pics for free!).  As the python "ate" each animal, my sock puppet's mouth hung open excitedly awaiting my client to "feed" him, and with a bit "chomp, chomp, chomp", each animal was gone, one by one.  And immediately after ALL animals "disappeared" into my phython's belly, he "coughed" them up, one by one (as I labeled them again), all over the floor.  The fun is in being over the top and making a mess!!!!  My client loved it!
Repeated Reading #2 and Puppet show:
This time my client and I each had our own sock puppet pythons and our own sets of animals.  We used his mom and older sister present at the time of therapy to "feed" our hungry pythons.  The best part?  To get his python fed, my client had to say the name of which animal he wanted at the time.  Voila'!  Voluntary verbalization!  Sometimes he asked for animals out of order as compared to the book, but really the goal was voluntary expressive communication, so every attempt was rewarded until all our animals were "gone".  Then, of course the best part…"coughing" them up all over the floor!!! Hahahaha!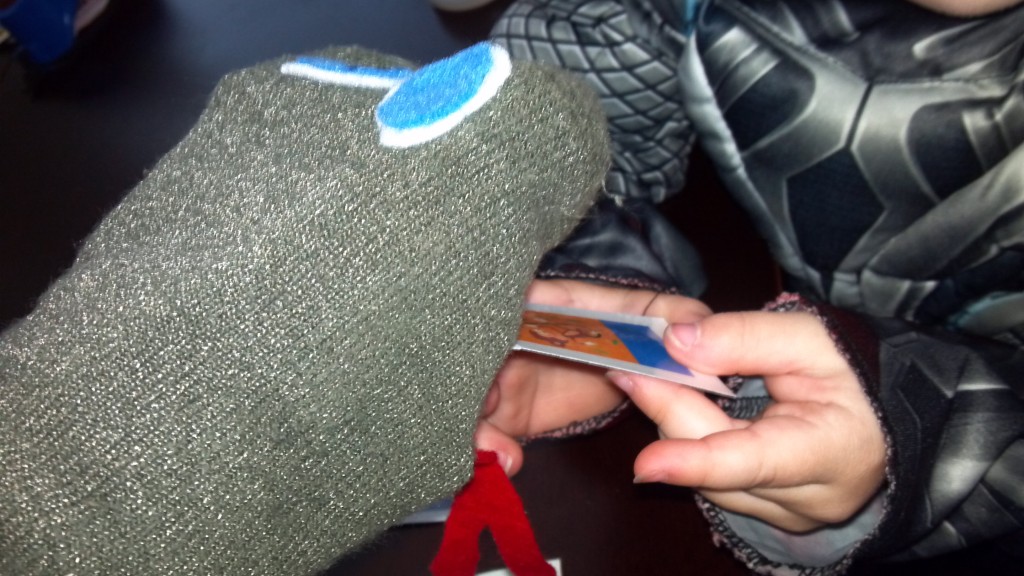 A simple way activity to get one of my clients more willing to participate in therapy!  How about you?  Have any secret tips or tricks????