New Page, New Look, New Store!!!
Welcome to my new website!
I'm so glad you are here with me on this adventure!!! I have another exciting announcement!  Along with my new site, and new look, you will see above that I have a brand new store!
At my one year blogiversary, I took all of your feedback into account and I have been working tirelessly trying to do the research and provide you with quality information and materials.  The first product I have ready for you targets the number one topic requested,  Autism Spectrum Disorders!  So many of you are needing more information on ASD and since it is my passion, I am happy to share it with you.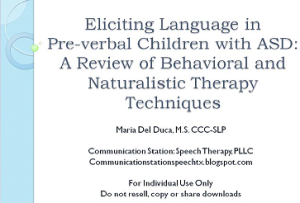 This is a 64 page PDF targeting the topic of language elicitation techniques for pre-verbal children with ASD!  If you have a child with ASD who is not YET using verbal communication or is using very minimal verbal communication on your caseload, than this product is for YOU!
In this packet, I review a number behavioral and naturalistic language facilitation techniques and their underlying principles.  Knowing the theoretical framework, implementation process and research basis behind each technique will arm any clinician with adequate knowledge and a plethora of therapy strategies one can trial with their pre-verbal or minimally verbal clients!
This  product is perfect for new clinicians, educators and clinicians unfamiliar with therapy techniques for nonverbal children with autism spectrum disorder, and seasoned clinicians and educators looking for information regarding various techniques and research support.
Over the last decade, I have used a number of these techniques and modified others (once understanding the theory and fundamentals underlying each) to suite the individual needs of my clients and I have found much success.  In addition to reviewing 16 different techniques, I also provide some of the research basis supporting each technique.  When reading research it is always important to understand any limitations research studies may present.  Therefore, I also provide you with some of the research limitations found among these bodies of research for your understanding and knowledge.  The following techniques are reviewed in this packet:
Applied Behavioral Analysis
Behavior Modification/Management
Discrete Trial Training
Verbal Behavior Analysis
Rapid Motor Imitation Antecedent
Incidental Teaching
Mand-Model
Time-delay
Milieu Communication Training
Pivotal Response Training
Natural Behavior Language Intervention
Unaided and Aided Augmentative and Alternative Communication
Total Communication
Non-electronic Communication
Voice Output Communication Aids
Picture Exchange Communication System
Developmental Treatment Models
By the end of reading this presentation, participants will:
◦Explain the differences between Behavioral and Naturalistic approaches
◦List the components of various behavioral and naturalistic techniques to facilitate language in preverbal children with ASD
◦Implement the 6 phases of the Picture Exchange Communication System
◦Discuss the research that supports the use of various techniques
So…
if you have some pre-verbal or minimally verbal children with ASD on your caseload,
if you are feeling lost and do not know where to turn or how to begin implementing strategies to move your clients from pre-verbal to verbal communication,
if you are a seasoned clinician or educator who have used all the tricks in your bag and are looking for more,
…than this packet has your name on it!
To celebrate my store's "Grand Opening", and to say "thank you" to you, my loyal followers, who are making this transition along with me, I am giving away a copy of a product of your choice!  Click the "shop" tab at the top of the page and you will see my current products.  The winner will be announced in this week's Friday's "FREEBIE Friday" (10/4) post so enter today!!!
I'm very excited to be sharing this resource with you!  Enjoy and happy talking!!!