Beyond Eye Contact: Connecting with Young Pre-Verbal Children with ASD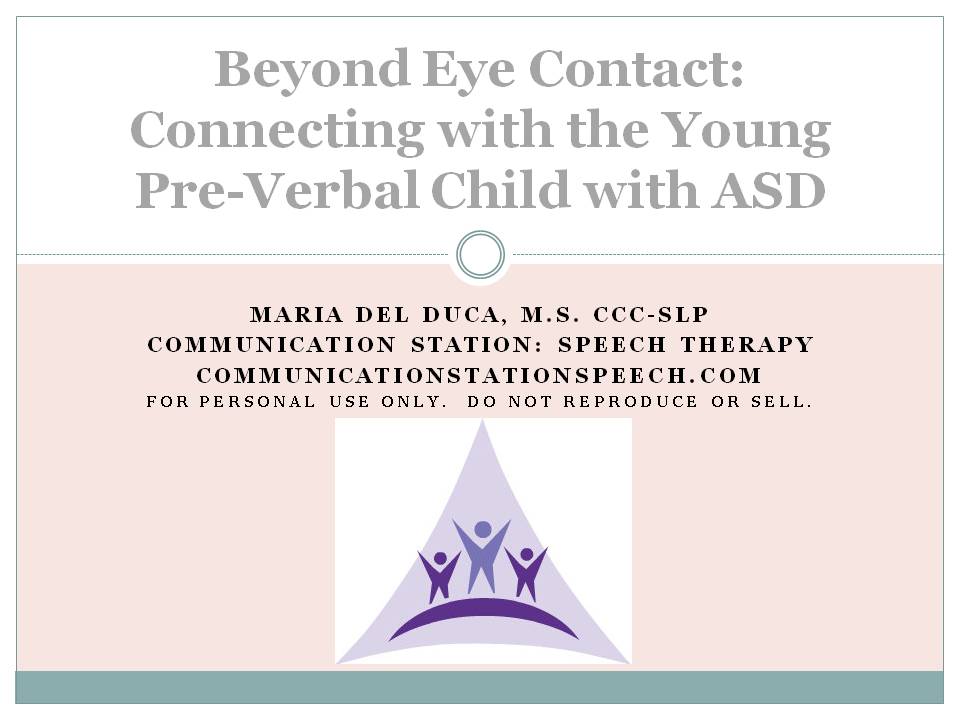 I'm super excited to announce my newest product:  Beyond Eye Contact: Connecting with Young Pre-Verbal Children with ASD!! 
Do you have a client/student with ASD on your caseload who is stumping you?  Are you feeling lost, confused, or overwhelmed by the fact that this client spends most of his/her time participating in stimulatory behaviors? Is your client unable or unwilling to verbally communicate?  Does your client seem to isolate him/herself from the outside world?  Then this product was made for YOU!
I created with product in response to numerous questions I have received via social media on how to work with non-verbal, minimally verbal, or pre-verbal children with ASD who do not seem to communicate with, respond to, or even acknowledge the presence of others.  The questions range from "How can I help this child communicate?" to "Help! What can I do to get this child to do something…anything with me?"
This product is based on 12 years of my clinical experience working with children with ASD, many hours spent reading various studies and textbooks, participation in a number of CEU courses and researching numerous therapy techniques and models.  Over the years, I have been able to streamline my approach with this population and have devised a straight forward 5 step plan in which to achieve that social connection!
Here is a detailed list of the information this product includes:
Page 1- Cover Sheet
Page 2- Objectives
Pages 3-5- Young Pre-Verbal Children with ASD Characteristics
Page 6- Steps Needed to Make Connections
Page 7-12- Observation
Pages 13- Types of Toys to Present to Child
Pages 14-18- Accommodation for Sensory Needs
Pages 19-22- Follow the Child
Pages 23-26- Using Emotion
Pages 27-28- A Note about Eye Contact
Pages 29-33- Bring the Child into YOUR World
Pages 34-37- A Note about Verbal Imitation
Pages 38-40- Children Who Do Not Respond to These Techniques
Page 41- Appendix A: Types of Play
Page 42- Appendix B: Social Stages of Play
Pages 43-44- ASD Observation Checklist Sheet
Page 45- Additional Resources That May Be Helpful
Pages 46-47- Resources Used in This Presentation
  This product is on sale NOW!  Click here to grab your copy today!
Enjoy and happy talking and connecting!!!